Mashable – 11 of the best fitness subscription boxes for any type of wellness junkie
3. The Runner Box
Running obsessives will appreciate headphones, water bottles, and snacks for an inspiration boost.
Value per box:

$40 – $60

Cycle:

Bimonthly

Customizable options:

TriBox, CycleBox
Just when you thought runners couldn't get any more obsessed with running, the
Runner Box
is perfect for those of us who run six miles miles for fun — or for those who want to get into running, but aren't sure where to start.
Mentioned by
ClassPass
and
Everyday Health
as one of the best boxes for runners, this bi-monthly box offers goodies that will aid in every leg of your run (pun intended). Items include headphones, protein bars and other healthy snacks, water bottles, and more for about half of what you'd pay IRL — many coming from unique brands that you won't find at a Dick's Sporting Goods.
If your love for cardio is aimed toward something other than marathons, the same company also has boxes catered toward
cycling
and
triathlons
. Regardless of your passion, you can choose to pay $20 twice a month for $60 worth of stuff. For the days you'd really rather just binge
Game of Thrones
instead of hitting the road, those 11 to 14 items might just be enough incentive to get off the couch.
Runner's World – The Best Gift Subscription Boxes for Runners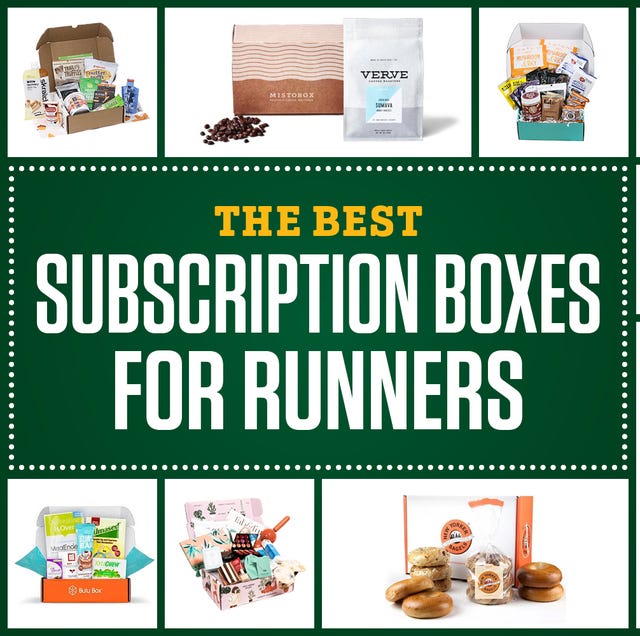 Find the full article here.
Elle – 15 Monthly Subscription Boxes That Take the Effort Out of Holiday Shopping
Read the full story here.
Gear Patrol – Are Subscription Boxes the Best Way to Try New Outdoor Gear?
Testing new gear has never been easier. Subscription boxes provide a way to have vetted, desirable outdoor gear show up at your doorstep with little effort on your part. While there are hundreds of boxes to choose from — there's one for just about every outdoor interest — not all of them are created equal. Here, we cut through the fat and gather four that we're actually excited about and are worth subscribing to.
The RunnerBox
For $20 you get 11 to 14 items that are tested by athletes to help runners improve performance. With marathon season looming, it can be a daunting task to try and figure out what your body can eat before, during and after a race. It can also be easy to quickly drop $50 on food to test. This box narrows your list of potential snack buddies on your long run. With partners like RXBAR, Bia and Rise Buddy, there will be snacks you've likely heard of before, and some that are brand new. If you're not a runner, check out the TriBox (for triathletes) or CycleBox (for cyclists), or special edition boxes like the Race Survival Kit, a one-time gift that is ideal for anyone running their first race.
Read the full article here.
Everyday Health – 5 Fitness Subscription Boxes, Tested and Reviewed by an Exercise Fiend
Last Updated:
I don't know about you, but after seeing FabFitFun (the popular fitness-inspired delivery service) take over the Instagram world via fitness influencers and B-list celebrities from The Bachelor, I had to find out for myself what the hype was about. So while this was originally a politically charged mission to discover FabFitFun's secrets (I needed to know), I thought it would be worthwhile to try out other fitness delivery services alongside it.
You may be asking: What's the point of signing up for an exercise box? As a longtime athlete, I have always been fascinated by the different aspects of fitness: from the quality (and quantity) of exercise we need to protein supplements and muscle recovery. But sometimes it's hard to focus on the parts of fitness that we need most. Maybe you're looking to boost your protein intake, or train for that marathon, or take on more advanced yoga moves. These boxes claim to help you accomplish those goals by providing clothing, supplies, and nutrients straight to your doorstep.
I chose five boxes that each cater to specific fitness niches, such as CrossFit or running. I then tested them for content quality and effectiveness (that is, whether the items in the box would truly help someone who participates in the suggested niche — that is the point, isn't it?).
Here's what I thought about each of them.
For The Marathoner
Price $14.50 per month; Buy It Here
What's inside
Run Gum Mint Energy Gum
Rise Buddy Pizza Rice Chips
Koyah Organic Whole-Leaf Kale Powder
Recipe card
Bia Bar Sweet & Salty Protein Bar
Veo Strip Sweat-Proof Band
Isocean Seawater Hydration Energy Gel
Dr. Price's Electrolyte Mix Packets
Xendurance Fuel-5 Berry Protein Blend
RxBar Mango Pineapple Protein Bar
NIØ 02 Focus Tape Pre-Workout Tri-Tape
WalBall Massage Tool
Helpful? Definitely!
Overall grade A
Thoughts For anyone who runs, bikes, or does triathlons (congratulations to you), this box will be your new best friend. And while RunnerBox does offer other subscriptions for cyclists and triathletes, I found the original RunnerBox to be the best of all worlds, with something for every kind of runner or cardio enthusiast. Overall, I thought the box did a great job of hitting all the targets for pre-, mid-, and post-workout needs, and even included supplements for different types of diets. The electrolyte-based mix packets are perfect for mid-run fuel. The workout tape is ideal for muscle therapy if you're going through an injury, while the massage tool included is helpful for post-workout recovery. The protein products are great post-workout fillers — plus, I thought it was great that they included Koyah, a plant-based protein for vegans. What I loved most is that I could tell all the products were hand-picked with purpose!
Read the rest of Katie's reviews here!
Classpass – 5 Best Fitness Subscription Boxes Based on Your Workout Routine
By Emily Elveru on October 10, 2018
I don't care how old you are — getting a package in the mail always delivers pure joy. And we're not talking a bill or a junk flyer, but a letter from grandma or a box of goodies. Something you can rip open, unload and bask in its offerings is utterly satisfying after a long day. And now, tons of boxes catered to fitness can help you do just that. Whether you're into general exercise gear, a tailored selection of yoga finds or just really love yummy snacks, there's something for every fitness level. Check out these five finds.
For the yogi
Let's all put our hands at heart-center for this one. After taking a short quiz about your clothing preferences and sizing, you'll be matched with a stylist who will pick out three name brand clothing items (like a bra, top and pair of leggings) either every month or every three months. Plus, YogaClub has partnered with the non-profit and after-school program LA's BEST, so for every box you get a child in Los Angeles' most vulnerable neighborhoods will receive a yoga and meditation class.
Get it: YogaClub, $79 for one box
For the runner
Get ready to gain some major friend points with this one. Despite the name, there are box options for runners, cyclists and tri-athletes. The boxes offer a solid mix of products and are great for discovering new brands. Do we smell a PR?
Get it: The Runner Box, $20 for one box
For the workout junkie
This box is fit just for you. Once you fill out a quick questionnaire about the type of exercise you typically do, what your fitness goals are and your sizing, an Under Armour team member will pick out and send 4-6 pieces that fit your needs and style every 30, 60 or 90 days. You get a week to try them on, and you can either keep what you want or send it back.
Get it: ArmourBox, curating is free, purchase items individually or get 20% off for buying the whole box
For the wellness guru
Satisfy all of your "me time" faves with this curated goodie box. Every season, 8-10 items related to beauty, fitness, wellness and home (that you can either customize or keep as a surprise) will show up at your door. Just add wine for a fabulous night dedicated to you and your new treats.
Get it: FabFitFun, $50 each season or $180 for an annual subscription
For the snack lover
So you're a fan of munching, but want to be more conscious about it? We get it. Check out Healthy Surprise, a service that offers a variety of new vegan or paleo treats. You can choose a classic (15 snacks), big (21 snacks) or paleo (17 snacks) box to come every 30, 60 or 90 days. Snack away!
Get it: Healthy Surprise, boxes start at $42.50
Buzzfeed – 21 Great Gifts For Anyone Who Loves Running
21 Great Gifts For Anyone Who Loves Running
Stuff that will make runners (even more) obsessed with running.
November 8, 2016
9.
An every-other-month subscription box tailored for runners.
Cupcakes and Cashmere Gift Guide: For the Guy in Your Life
What to buy for your husband, brother, dad, or boyfriend.
December 8, 2017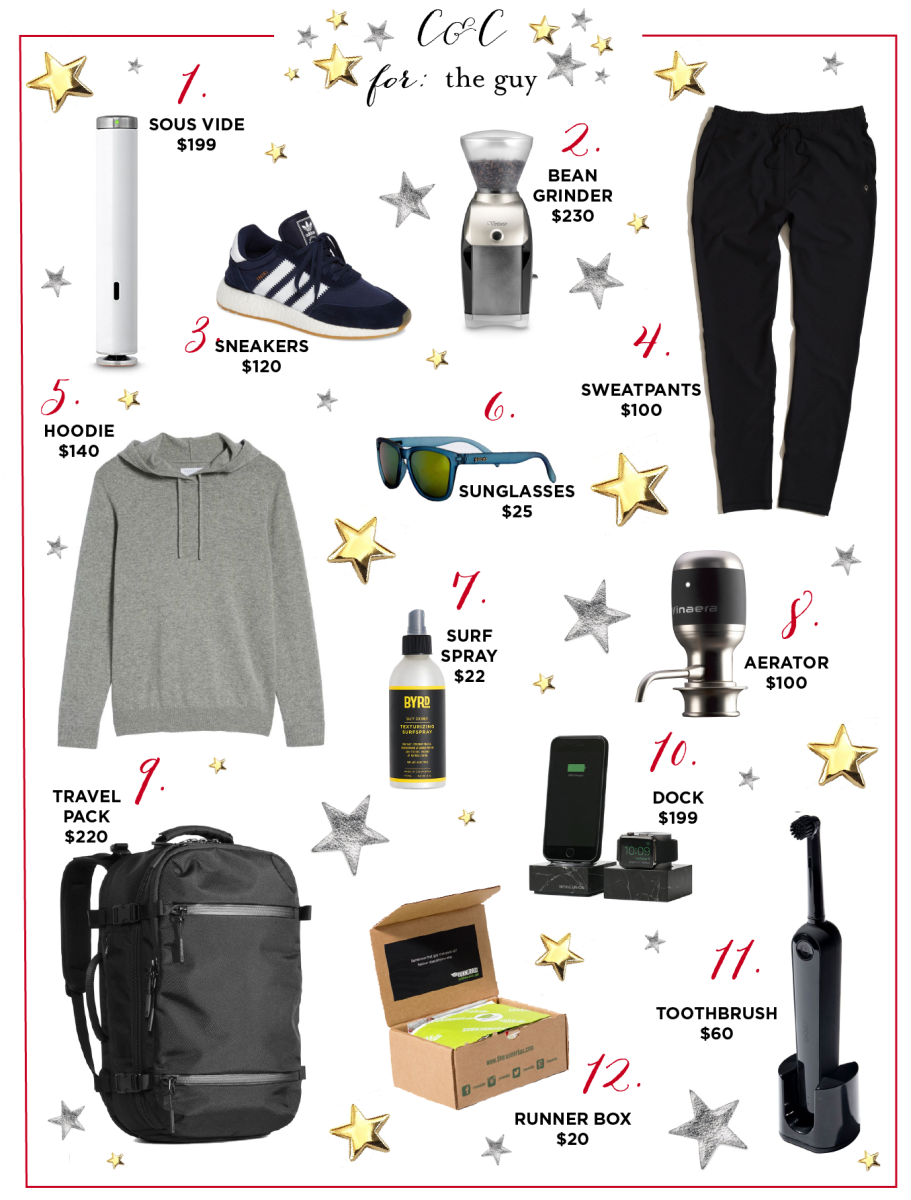 Once a year I tap Geoffrey's expertise for authentic dude-approved gift ideas to share what the guy in your life is actually eyeing this season. Here are his picks for the father/brother/husband in your life:
12. Runner Box: I've tested almost every brand of sports drinks, snack, and energy gels and love discovering new products. This subscription service sources great options for Runners, Cyclists and Triathletes and you can select how often you receive deliveries. I'm testing out the products this winter, but am pretty confident it's going to become a go-to service.
See the full article here
Chicago Tribune – 20 Gift Ideas For the Broke Millennial
November 30, 2017
By: KT Hawbaker, Christen Johnson, Jessi Roti and Susan Moskop
"Millennials are too busy killing chain restaurants and burying themselves in avocado toast to worry about expensive presents. Time for funky, thoughtful gifts under $35 — here are our top picks. —"
# 16: The Runnerbox
Everyone loves care packages –- including fitness junkies. Give an assortment of wellness trinkets with gift boxes containing 10-12 items such as nutrition snacks and athletic accessories. Chose from running, cycling, tri, race or other specialty boxes and ship it right to the door of your choice.
Esquire: The 17 Best Subscription Box Services for Men
Never leave home again.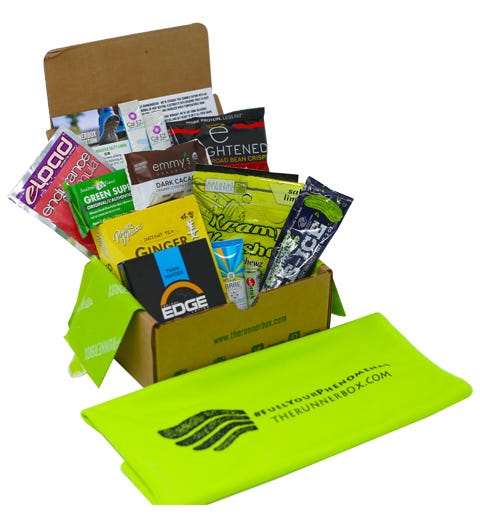 $20 every two months, therunnerbox.com
If you're a serious runner, you're going to need a lot of healthy snacks to keep your energy up. This box loads you up with gels, chews, protein shakes, nutrition bars, and a whole host of snacks, supplements, and running accessories. The company also makes boxes designed especially for cyclists and triathletes, too.
 See the full article
here
.
The PathMag – The 5 Subscription Boxes You Should Definitely Try Out
April 19, 2017
"A box that is meant to enhance your overall active lifestyle, RunnerBox delivers an assortment of key activity-enhancing to your door on the regular, from gels and chews to protein shake mixes, supplements, and running accessories. Not much of a runner? You can also take advantage of other options, like the CycleBox This one isn't quite a monthly subscription box – you'll get your delivery once every two months instead of once a month – but with plenty of runner's gear to keep you going in every shipment, twice monthly shouldn't be too big of a problem."
Healthy & Fit Magazine – Gift Guide
Running Northwest – RUNNER SUBSCRIPTION BOXES REVIEWED
RUNNER SUBSCRIPTION BOXES REVIEWED
Subscription boxes have been taking the world by storm over the last couple years and we decided to jump in and see what's out there for runners. So whether you're looking for something for yourself or someone close to you, we figured there had to be a box out there for everyone and we were pleasantly surprised by the results. Our goal wasn't to find the perfect or cheapest box out there because all fitness related boxes tend to have their own focus. Instead, this is intended to give you a look at all the options out there and explain who these boxes might be best suited to. Now, let's open some boxes!

STRIDEBOX
StrideBox comes in a nice little family friendly designed box and across the board the branding is on point. They offer a nice little "Stride Guide" with information on each product including perceived values and then also a recipe and workout card as well. Each box includes an "Essential" which in our case was a Silicon LED armband, well worth the cost of the box alone. The products inside were a decent mix providing an interest cross section of new products on the market. This included a bar, crackers, a gel, a Hotshot, Yogi tea, and Cal-ez. They include a guide for when to use each (Before, During, After), but really I treated this box as a way to check out some new products in lieu of adding them to my training regime.
Cost: $15 month
URL: https://stridebox.com/
Verdict: So the good here is that its cheap and the entire system including the little recipe card are well designed. The LED arm band recoups most of the cost of the box, but part of me would spend $5 more on this one for a few more goodies and maybe choose something outside the mainstream (Powerboat, really?). It's almost too cheap… if thats's possible. Great for those just curious about running boxes.
TRIFUEL MONTHLY
TriFuel Monthly at first glance really seems to be about triathlon training and has targeted boxes to those training for various triathlon distances, BUT the Fit Pack to me really shines. The box is no frills and it still includes Workout plans for those in training along with how to use the included products. It is very well thought out and the programs are disciplined. For example, eat X at this time using Y product and even explains why you would do this. The quality of the products themselves is also great and some of our favorites (Picky Bars, Waffles, Skratch!), the included headband we received as the monthly gift was probably unnecessary and could use some creative help, yet is still a nice extra.
Cost: $39 month, $33 month for 3 months (Fit Pack)
URL: http://www.trifuelmonthly.com/
Verdict: The included plans and some of the updates TriFuel has planned make this very interesting for those in training. Despite the name it is definitely not only for triathletes, but definitely designed more for those with a goal in mind and a schedule. Products were great quality and some of our favorites. Overall, one of the strongest for dedicated athletes looking for solid products. Probably one of my personal favorites.
RUNNER CRATE
Runner Crate absolutely killed it on the consumer aesthetic front. The box is visually interesting and the sheer amount of stuff you get is almost overwhelming. I did find the contents to be a little mixed, but loved the fact there was a lot to "discover". It felt like a LootCrate or other surprise gift box in that there is a lot of different stuff to play with. They should be careful with some product targeting, sending Pork Clouds to vegetarians, so would be good to target some of it. RunGum, TailWind, Honey Stinger gels, Hippeas… all solid products. The socks and slap bracelet pieces felt almost unnecessary and would loved just a decent pair from a reputable company. That would have put them over the top.
Cost: $35 month, pre-pay discounts
URL: http://www.runnercrate.com/
Verdict: Clearly the visual marketing winner. This box definitely felt like the biggest quantity of goods and also had a great mix of diversity. Some of the items felt really underwhelming quality wise (socks and cuffs), but the quantity of goods meant you definitely had some fun stuff to try. And Sriracha Hippeas… mmm, who knew. I'm converted.
MY RUN BAG
My Run Bag is really a perfect bag for first time runners. Its basically a challenge in a bag accompanied with fun little extras. You get a number (which is random), a shirt, and even a medal all designed around this fake run. It's really a nice incentive and then they include other race items like a race belt, a selfie stick, muscle cramp pills, a version of Glide, etc. Ours was themed around Chinese New Year and you could really feel that throughout there entire box which was clever. All in all, it was fun and will feel exciting for first time runners.
Cost: $25 month, pre-pay discounts
URL: https://www.myrunbag.com/
Verdict: These guys need a box because the reveal underwhelms from an envelope. That being said, the theming of this box made it the most compelling for new runners. It basically revolves around your first time out, even creating a fake race out of it. Better quality shirts are definitely needed, but that number belt will pay for itself.
FUN RUN BOX
The Fun Run Box is really a "Challenge" box and the first box kicks off your experience. You then go through this process getting more challenges each month and at month six, you get your finisher's medal. We absolutely loved the included big item in the first box, the Hydrapak water bottle, and the mix of edibles and other products was solid. The included shirt needs some quality and creative improvements, but the workout card and the whole challenge model definitely made this interesting.
Cost: $35 month, pre-pay discounts
URL: https://www.funrunbox.com/
Verdict: The Hydrapak water bottle was the standout, but the shirt needs some help. The little training card was a good touch, but would love to see the shirt dropped in favor of more goodies. Honey Stinger waffles forever!!
THE RUNNERBOX
RunnerBox has a few different flavors for various sports so if you are a runner, cyclist, or triathlete then they have something for you. They also do limited boxes like their Valentine's Edition and even Birthday boxes so again, solid variety.
Overall, this one has a lot of value and discovery for such a low priced box. I found the Runner Box to have a very solid mix of quality products and I did get that feeling of "ooh, this is interesting" as I went through things. There were some great products in here that I honestly had never heard of prior. Standouts were the Redd bar, Banza, Zest Tea, and the Louva sleeves.
Cost: $20 every 2 months
URL: https://www.therunnerbox.com/
Verdict: Nice diversity in this box and nothing felt unnecessary. The Hotshot almost burned me up pre-run (not really although I could feeeeel it in my toes), but the Banza mac and cheese… just shut up, so good.
Buzzfeed – 31 Subscription Gifts They'll Love All Year
Give the gift of a good mail day.
December 9, 2014
21.

 The RunnerBox: 

Regular Products for Endurance Athletes
For your pal who is planning to train for a marathon in 2015. $20 per box (which ships every other month)
Parade.com – Gift Guide: The Best Gift Subscriptions
NOVEMBER 24, 2015
Run With It!
Runnerbox is a subscription-based company that offers bi monthlysubscription boxes as well as gift boxes and special addition boxes that are delivered right to your door. Each box includes products from nutrition to exercise gadgets for runners, cyclists and triathletes. The company is run by two professional cyclists and a serious runner where they  combine their  knowledge of nutrition and products and put together a box that will give athletes that winning edge. With so many products coming out on the market, leave the trials and testing to the Runnerbox experts! They seek out the best and send them to you.
http://parade.com/438095/janenemascarella/gift-guide-the-best-gift-subscriptions/#gallery_438095-22
Inc.com – 14 Product Subscription Services to Simplify Your Life
December 15, 2015
The RunnerBox