Look Who's Talking About Us.
Here's what they're saying about The RunnerBox…
Cupcakes and Cashmere Gift Guide: For the Guy in Your Life
What to buy for your husband, brother, dad, or boyfriend.
December 8, 2017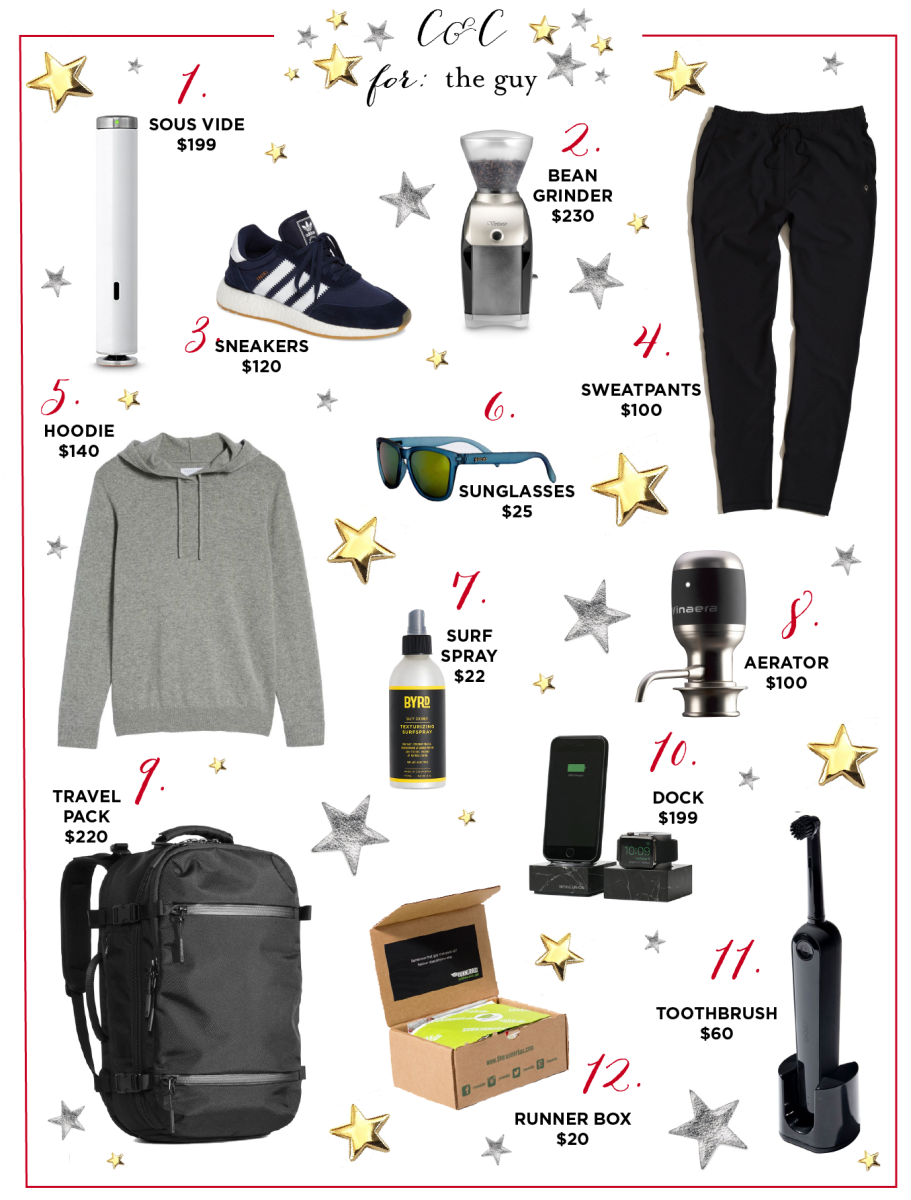 Once a year I tap Geoffrey's expertise for authentic dude-approved gift ideas to share what the guy in your life is actually eyeing this season. Here are his picks for the father/brother/husband in your life:
12. Runner Box: I've tested almost every brand of sports drinks, snack, and energy gels and love discovering new products. This subscription service sources great options for Runners, Cyclists and Triathletes and you can select how often you receive deliveries. I'm testing out the products this winter, but am pretty confident it's going to become a go-to service.
See the full article here
Buzzfeed – 21 Great Gifts For Anyone Who Loves Running
21 Great Gifts For Anyone Who Loves Running
Stuff that will make runners (even more) obsessed with running.
November 8, 2016
9.
An every-other-month subscription box tailored for runners.
Nola.com The Times-Picayune – Fitness holiday gift guide: How to give good-for-you presents
December 05, 2017
By Molly Kimball
"Searching for the perfect gift for those focused on nutrition and wellness in 2018? Good-for-you gifts can be tailored to suit anyone on your list, with the added benefit of enhancing the lives of friends and family.
For more ideas to help get you started, here are 10 wellness-inspired gift ideas that you can really feel good about giving…."
"The Runnerbox offers bi-monthly subscription boxes delivered right to your door, filled with products ranging from nutrition fueling to exercise gear and skincare for runners, cyclists and triathletes. Founded by marathoner and registered nurse Staci Dietzel, the company is run by endurance athletes who combine their knowledge of sport and product to assemble boxes to give athletes an extra edge. Their team hand-picks products to help keep athletes up to speed with the current trends to stay on top of their game."
http://www.nola.com/healthy-eating/2017/12/fitness_holiday_gift_guide_how.html
Chicago Tribune – 20 Gift Ideas For the Broke Millennial
November 30, 2017
By: KT Hawbaker, Christen Johnson, Jessi Roti and Susan Moskop
"Millennials are too busy killing chain restaurants and burying themselves in avocado toast to worry about expensive presents. Time for funky, thoughtful gifts under $35 — here are our top picks. —"
# 16: The Runnerbox
Everyone loves care packages –- including fitness junkies. Give an assortment of wellness trinkets with gift boxes containing 10-12 items such as nutrition snacks and athletic accessories. Chose from running, cycling, tri, race or other specialty boxes and ship it right to the door of your choice.
http://www.chicagotribune.com/lifestyles/holiday/giftguide/sc-gift-guide-broke-millennials-2017-photogallery.html
Esquire: The 17 Best Subscription Box Services for Men
Never leave home again.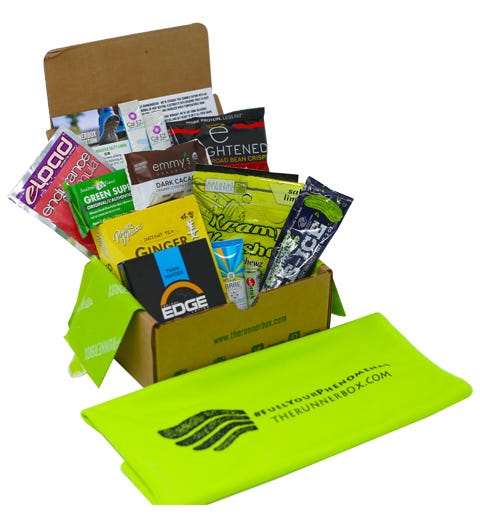 $20 every two months, therunnerbox.com
If you're a serious runner, you're going to need a lot of healthy snacks to keep your energy up. This box loads you up with gels, chews, protein shakes, nutrition bars, and a whole host of snacks, supplements, and running accessories. The company also makes boxes designed especially for cyclists and triathletes, too.
 See the full article
here
.
The PathMag – The 5 Subscription Boxes You Should Definitely Try Out
April 19, 2017
"A box that is meant to enhance your overall active lifestyle, RunnerBox delivers an assortment of key activity-enhancing to your door on the regular, from gels and chews to protein shake mixes, supplements, and running accessories. Not much of a runner? You can also take advantage of other options, like the CycleBox This one isn't quite a monthly subscription box – you'll get your delivery once every two months instead of once a month – but with plenty of runner's gear to keep you going in every shipment, twice monthly shouldn't be too big of a problem."
Healthy & Fit Magazine – Gift Guide
Running Northwest – RUNNER SUBSCRIPTION BOXES REVIEWED
RUNNER SUBSCRIPTION BOXES REVIEWED
Subscription boxes have been taking the world by storm over the last couple years and we decided to jump in and see what's out there for runners. So whether you're looking for something for yourself or someone close to you, we figured there had to be a box out there for everyone and we were pleasantly surprised by the results. Our goal wasn't to find the perfect or cheapest box out there because all fitness related boxes tend to have their own focus. Instead, this is intended to give you a look at all the options out there and explain who these boxes might be best suited to. Now, let's open some boxes!

STRIDEBOX
StrideBox comes in a nice little family friendly designed box and across the board the branding is on point. They offer a nice little "Stride Guide" with information on each product including perceived values and then also a recipe and workout card as well. Each box includes an "Essential" which in our case was a Silicon LED armband, well worth the cost of the box alone. The products inside were a decent mix providing an interest cross section of new products on the market. This included a bar, crackers, a gel, a Hotshot, Yogi tea, and Cal-ez. They include a guide for when to use each (Before, During, After), but really I treated this box as a way to check out some new products in lieu of adding them to my training regime.
Cost: $15 month
URL: https://stridebox.com/
Verdict: So the good here is that its cheap and the entire system including the little recipe card are well designed. The LED arm band recoups most of the cost of the box, but part of me would spend $5 more on this one for a few more goodies and maybe choose something outside the mainstream (Powerboat, really?). It's almost too cheap… if thats's possible. Great for those just curious about running boxes.
TRIFUEL MONTHLY
TriFuel Monthly at first glance really seems to be about triathlon training and has targeted boxes to those training for various triathlon distances, BUT the Fit Pack to me really shines. The box is no frills and it still includes Workout plans for those in training along with how to use the included products. It is very well thought out and the programs are disciplined. For example, eat X at this time using Y product and even explains why you would do this. The quality of the products themselves is also great and some of our favorites (Picky Bars, Waffles, Skratch!), the included headband we received as the monthly gift was probably unnecessary and could use some creative help, yet is still a nice extra.
Cost: $39 month, $33 month for 3 months (Fit Pack)
URL: http://www.trifuelmonthly.com/
Verdict: The included plans and some of the updates TriFuel has planned make this very interesting for those in training. Despite the name it is definitely not only for triathletes, but definitely designed more for those with a goal in mind and a schedule. Products were great quality and some of our favorites. Overall, one of the strongest for dedicated athletes looking for solid products. Probably one of my personal favorites.
RUNNER CRATE
Runner Crate absolutely killed it on the consumer aesthetic front. The box is visually interesting and the sheer amount of stuff you get is almost overwhelming. I did find the contents to be a little mixed, but loved the fact there was a lot to "discover". It felt like a LootCrate or other surprise gift box in that there is a lot of different stuff to play with. They should be careful with some product targeting, sending Pork Clouds to vegetarians, so would be good to target some of it. RunGum, TailWind, Honey Stinger gels, Hippeas… all solid products. The socks and slap bracelet pieces felt almost unnecessary and would loved just a decent pair from a reputable company. That would have put them over the top.
Cost: $35 month, pre-pay discounts
URL: http://www.runnercrate.com/
Verdict: Clearly the visual marketing winner. This box definitely felt like the biggest quantity of goods and also had a great mix of diversity. Some of the items felt really underwhelming quality wise (socks and cuffs), but the quantity of goods meant you definitely had some fun stuff to try. And Sriracha Hippeas… mmm, who knew. I'm converted.
MY RUN BAG
My Run Bag is really a perfect bag for first time runners. Its basically a challenge in a bag accompanied with fun little extras. You get a number (which is random), a shirt, and even a medal all designed around this fake run. It's really a nice incentive and then they include other race items like a race belt, a selfie stick, muscle cramp pills, a version of Glide, etc. Ours was themed around Chinese New Year and you could really feel that throughout there entire box which was clever. All in all, it was fun and will feel exciting for first time runners.
Cost: $25 month, pre-pay discounts
URL: https://www.myrunbag.com/
Verdict: These guys need a box because the reveal underwhelms from an envelope. That being said, the theming of this box made it the most compelling for new runners. It basically revolves around your first time out, even creating a fake race out of it. Better quality shirts are definitely needed, but that number belt will pay for itself.
FUN RUN BOX
The Fun Run Box is really a "Challenge" box and the first box kicks off your experience. You then go through this process getting more challenges each month and at month six, you get your finisher's medal. We absolutely loved the included big item in the first box, the Hydrapak water bottle, and the mix of edibles and other products was solid. The included shirt needs some quality and creative improvements, but the workout card and the whole challenge model definitely made this interesting.
Cost: $35 month, pre-pay discounts
URL: https://www.funrunbox.com/
Verdict: The Hydrapak water bottle was the standout, but the shirt needs some help. The little training card was a good touch, but would love to see the shirt dropped in favor of more goodies. Honey Stinger waffles forever!!
THE RUNNERBOX
RunnerBox has a few different flavors for various sports so if you are a runner, cyclist, or triathlete then they have something for you. They also do limited boxes like their Valentine's Edition and even Birthday boxes so again, solid variety.
Overall, this one has a lot of value and discovery for such a low priced box. I found the Runner Box to have a very solid mix of quality products and I did get that feeling of "ooh, this is interesting" as I went through things. There were some great products in here that I honestly had never heard of prior. Standouts were the Redd bar, Banza, Zest Tea, and the Louva sleeves.
Cost: $20 every 2 months
URL: https://www.therunnerbox.com/
Verdict: Nice diversity in this box and nothing felt unnecessary. The Hotshot almost burned me up pre-run (not really although I could feeeeel it in my toes), but the Banza mac and cheese… just shut up, so good.
Buzzfeed – 31 Subscription Gifts They'll Love All Year
Give the gift of a good mail day.
December 9, 2014
21.

 The RunnerBox: 

Regular Products for Endurance Athletes
For your pal who is planning to train for a marathon in 2015. $20 per box (which ships every other month)
Parade.com – Gift Guide: The Best Gift Subscriptions
NOVEMBER 24, 2015
Run With It!
Runnerbox is a subscription-based company that offers bi monthlysubscription boxes as well as gift boxes and special addition boxes that are delivered right to your door. Each box includes products from nutrition to exercise gadgets for runners, cyclists and triathletes. The company is run by two professional cyclists and a serious runner where they  combine their  knowledge of nutrition and products and put together a box that will give athletes that winning edge. With so many products coming out on the market, leave the trials and testing to the Runnerbox experts! They seek out the best and send them to you.
http://parade.com/438095/janenemascarella/gift-guide-the-best-gift-subscriptions/#gallery_438095-22
Inc.com – 14 Product Subscription Services to Simplify Your Life
December 15, 2015
RunnerBox
Boulder Weekly – Mind the gap
Women's cycling is growing, but the pay gap is still vast
By Caitlin Rockett – 
|
Oliver Weber Photography
Back in July, Americans tuned in — in recordbreaking numbers, no less — to watch the U.S. women's national soccer team easily rise to victory against Japan in the World Cup. This was the women's third World Cup win since the team's creation in 1985.
And Americans stayed tuned in when news rolled out that the women were awarded $2 million for their win. That's not so bad until you compare it to the $35 million the German men's team was awarded after their World Cup victory in 2014. And just to drive the point home: the U.S. men's soccer team was awarded $8 million just for reaching the Round of 16.
The story isn't new: in the Women's National Basketball Association, Brittney Griner, who was the top draft pick of 2013, made $49,440 in her rookie season with the Phoenix Mercury, according toBusiness Insider. Compare that to Anthony Bennett, the men's NBA top draft pick in 2013, who signed a three-year, $16.6 million contract with the Cleveland Cavaliers, according to sportrac.com. That contract works out to a more than $5.5 million salary for Bennett's rookie year.
The story is the same for many female athletes across the spectrum of sports (and for women in the general workforce — but that's another story).
Boulder-based professional cyclists Laura Jorgensen and Courteney Lowe are taking a stand against the pay gap in women's sports as they prepare to ride the USA Pro Challenge as part of the Pepper Palace Pro Cycling team. And this is no trivial undertaking. Considered one of the most important stage races in the nation for cycling, this year marks the first time in its 27-year history that the USA Pro Challenge has offered a women's route. Even at that, the women launch on Friday, Aug. 21 for a three-day race, while the men ride a full week beginning on Monday, Aug. 17.
Still, Jorgensen says they are grateful for the opportunity.
"Any time you can get women involved in a race like this, it grabs attention," the Florida native turned Boulder resident says. "We are so grateful to Pro Challenge for adding a three-day women's paid race so people can see that women actually know how to race a bike. In the past it was more like a consolation event, where men race and women did a circuit at the end. You don't get to see how much work [women] put into the sport. You see the men do a five-hour road race and women do an hour criterium and it gives the perception that women aren't able to do those same types of stages."
Despite the vast difference in the length of days women will have to participate, they are given the opportunity to ride the same technically difficult courses as the men, from the individual time trial in Breckenridge, to the road race in Fort Collins, and a final criterium in Golden to showcase the sprinters.
According to Cycling News, the average salary for a female cyclist is $22,200 — and that's for top competitors. The average drops to around $13,300 if the top earners are taken out of the equation.
As is the case with soccer and basketball, the comparison between male and female cyclists is shocking: the average salary for a male cyclist is about $295,100, a figure that drops to $139,200 when top earners are factored out.
The Union Cycliste Internationale, the governing body for the cycling world, is trying to address this wage gap, but it's slow moving.
"It's a huge gap and I think it's getting better, but $22,000 is better than it would have been even five years ago," says Lowe, a New Zealand native who relocated to Boulder just this year to continue her professional cycling career with Pepper Palace Pro Cycling. Lowe has been racing since she was 17. She's now 22 and in her fifth year of professional cycling.
For Jorgensen, the entry into pro cycling was different. A number of ACL tears forced her to end her collegiate basketball career, and she found that cycling didn't place the same stress on her knees that running did.
"I was just racing recreationally when I was in Florida," she says. "I was working a corporate job, behind a desk all day long, trying to fit in the training. And I got to the level where I could race professionally, but there was no money in it. I wasn't in a position where I have the financial support somewhere else to say, 'I'll race my bike and make very little money.'" But last year Jorgensen decided she wanted to race full time, no matter what it took. So she quit her job and went to work with a friend on a business called Runner Box.
Jorgensen and Lowe both work for Runner Box, which Jorgenson describes as a "Birchbox for runners," where subscribers get a different box every other month, filled with products that "fuel your athletic endeavors." They also offer boxes for cyclists and triathletes.
While racing and operating a business are both full-time jobs, Jorgensen says it works.
"There are tons of synergies between our racing and our working, because when we go to races, there are all these products, all sorts of expos, so we get to test and train, share with teammates, and then find the best of the best products and ship it out to subscribers," Jorgensen says. "There's tons of crossover and that's why it's able to work. Particularly when we're out racing and traveling, we're doing lots of networking."
But when they're home and training for the next race, that's when Lowe says they "put the nose to the grind stone, get up and get the ride in early, then go to the office."
"We tend to do the same thing over and over again: Get up really early, go to the gym, go for a ride for anywhere between two and five hours, then come back, have lunch, and spend the rest of the day working at the office at the house," Lowe says. "Then we go to the gym in the evening again. Go to bed and then repeat the next day."
And all of this work because neither woman can make a living simply being a pro cyclist.
Jorgensen says it can cost, on average, about $6,000 per participant in a stage race — that includes entry fees, travel (including airfare if need be), housing, food and mechanics. Of the six members of the Pepper Palace team, two live outside of Colorado.
To complicate matters this year, one of Pepper Palace's sponsors fell through, leaving a $28,000 gap in the team's season budget. Riders are still collecting salaries, but finding funding for entry fees and travel has been difficult. When these sorts of problems arise, many women are forced to pay out of pocket if they want to compete.
To bridge the gap in their funding, Lowe and Jorgensen created a team specific version of the Runner Box called the Pepper Palace Box, filled with products provided by their team sponsors, that anyone can purchase to help sponsor the team.
It's been slow-going with the Pepper Palace Boxes, says Lowe, but the team has reached out in any way they can for help. Recently, Taylor Phinney — the 25-year-old who stood at the top step of the podium in Steamboat Springs for the first stage of the men's Pro Challenge on Monday — supported Pepper Palace by supplying signed cards for each Pepper Palace Box.
"It has been [so difficult] to get sponsorship," Jorgensen says. "I am coming from a business standpoint, and I understand that sponsors are only going to put their money into something they think they will get a return on. But it's a catch- 22: if women aren't even able to be out there showcasing a brand, how do you get the support? So these events are crucial for women's cycling — The Pro Challenge, the Tour of California doing a women's race tour. Even if the race is shorter, it's a step in the right direction and sponsors can see that women can provide an entertainment level the same as men can. It allows sponsors to say, 'Hey, women are also giving us visibility.'"
Despite her positive attitude, Jorgensen says she's unsure if the gap between male and female athletes will ever close. Her main goal is to fight for a living wage.
"I don't have to tell you that $22,000 isn't enough to live on," she says. "If we can get women to a viable living, even if it's not luxury… I don't think any of us are asking for a million dollar paycheck. I think we all just hope it gets to a place that we can support ourselves in a way that's even viable."
Richmond.com – Disparity in pay an obstacle for some female cyclists competing in Richmond
By LOUIS LLOVIO Richmond Times-Dispatch
Pepper Palace Pro Cycling, led in part by Julie Kuliecza of Richmond, will have an opportunity to race in the UCI Road World Championships here next month, but riders may have a tough time making the trip.
"We have some really great sponsors, for the most part, (but) there was a certain amount of money from one of our sponsors that didn't come through and so that's made the last half of our season very difficult," Kuliecza said.
"While riders are still getting their salaries, what's been difficult is that the money for travel and entry fees has been lacking," she said.
Kuliecza could not disclose which sponsor had not followed through with payment but said the team was left with a funding gap of about $28,000 for the season.
That a women's cycling team finds itself in rocky financial straits is not a major surprise. While the top men's teams are, for the most part, well-funded and able to give riders the support they need to compete at the highest level, female riders — paid far less — have to make huge financial sacrifices to race professionally, or give up the sport.
The disparity is something cycling's governing body is working to address. But advocates of women's cycling say that, while there are positive developments, the sport is a long way from making professional cycling a viable career option for most women.
The average salary for a female cyclist is $22,200, according to the industry publication Cycling News. That number drops to about $13,300 if the top earners are taken out of the equation.
In comparison, the average salary for a male cyclist is about $295,100. Taking out the top earners drops that to $139,200.
Pepper Palace's situation means individual riders, some of whom already will miss time from jobs, have to pay for travel and other expenses out of their own pockets.
Making the trip to Richmond for the Sept. 19-27 event could cost the riders as much as $1,000 each.
Airfare is particularly concerning, Kuliecza said, because the team will race at the USA Pro Challenge in Colorado next Friday — the men's race begins Monday — and will have to make their way east from there.
The cost for the team for a trip to the world championships, she said, is about $10,000, and that includes bringing the riders and staff.
To offset some of the costs, the team has reached out to Richmond Athlete Hospitality. The local group is working to help riders without the means of a larger delegation to find a place to stay and to get support while they're here.
The problem could interfere with the team's preseason goal to race at the world championships in Richmond next month — a very rare opportunity for an American team to race for the sport's top honor at home.
Pepper Palace this season became a UCI Women's Team, moving up from a U.S. Continental Pro Team, with the intention of competing in Richmond for a world championship in the Team Time Trials.
To qualify, a road team usually needs to earn enough points throughout the season to secure one of the 25 available spots.
But UCI has said that all registered American teams would be allowed to race in the Team Time Trials "in the spirit of assisting the development of cycling in the United States."
The exception allows Pepper Palace to compete despite not qualifying under the existing criteria.
Tim Miller, chief operating officer of Richmond 2015, which is organizing the world championships, told teams of the decision in a letter this year.
"This is exciting news for everyone, especially for all of us who take tremendous pride in hosting the world championships on U.S. soil for the first time since 1986," Miller said.
The world championships are expected to draw about 450,000 spectators over its nine days and about 300 million television viewers worldwide.
Robin Farina, a pro cyclist and CEO of the Women's Cycling Association, said many professional women's teams long have had problems generating enough money to stay afloat.
"I don't know of any women's team that's operating on over a $1 million budget," she said. "On a $1 million budget you could have the best team in the world, hands down."
The issue is fundamental, she said, because in order to be truly competitive — and for riders to be able to make a living — a team has to be financially viable. Otherwise, top female athletes will turn to other sports or just decide not to race professionally.
"You're not making big bucks. So there's a lot of sacrificing that leads up to racing," Kuliecza said.
"You have to put in a considerable amount of time training. So that's less time than you would have to maybe have a second job. There (are) a lot of riders that are compensated by their teams but have to have a second salary."
Kuliecza said financial worries are a distraction for riders and make it harder for them to train.
And that's particularly troubling in the case of the world championships, because for some riders it is the largest stage on which they may ever race.
"I don't know if people understand … but it's a lot of stress to manage. And if we can help them manage some of that better by taking away some of the stress, then the better they (will) perform," she said.
To raise money to make the trip, and to reimburse riders for what they've already spent, the team is selling Pepper Palace Pro Cycling Kits on therunnerbox.com, a website for athletes.
The $29.95 kit includes items that allow the team's fans to "enjoy what makes us go so fast." There also is a spot on the website for donations.
"We're not just asking for handouts," Kuliecza said. "We're trying to hustle so we have money for Worlds and the rest of our season."
About Boulder – Friends, Athletes are Full Package for Boulder Start-up
Admit it. You've ordered something online for the sole purpose of getting to look forward to a package coming in the mail. It's really not that sad or desperate. Getting something specifically sent to you feels awesome and let's you know someone out there took the time to prepare the thing, send it, and now it's here. Just for you. Runnerbox, the Boulder start-up founded in 2012 by marathoner and nurse, Staci Dietzel, harnesses a similar concept. Except ordering a Runnerbox requires even less deliberation or research. Rather than spending hours deleting thousands of dollars worth of clothes from a shopping basket to settle on one $8 dollar shirt, Runnerbox does all of the research and hard work—they do the research, you do the training.

Contents of a "Birthday Box" you can order as a one time gift. Bars, Superfood, ribbons… everything but balloons and a margarita.
That's the concept for Runnerbox. Runners, Cyclists, Triathletes and other people who like being prepared with their fitness endeavors, subscribe for bi-monthly boxes full of specific, highly researched, and necessary items for training for the next two months. The boxes are sent on a "gift" or "bi-monthly" subscription basis, and contents range from fuel (bars, gels, electrolyte mix), blister pads, and other necessities. Subscription boxes similar to Runnerbox have become more popular in the endurance athlete community, but these knowledgable athletes pride themselves on putting the boxes to use in their own training to eliminate unnecessary fluff.
Staci Dietzel is a mother, marathoner, and now entrepreneur that encouraged her friend, Laura Jorgensen to start racing half marathons with her after Laura's collegiate basketball career was forced to a hault by "too many ACL tears". One tear would probably be enough for most people to call it quits. Jorgensen eventually fell in love with cycling after finding success quickly and managing to train to an intense level without facing knee pain like she did with running.
I spoke with Laura about her involvement and how she came to be in Boulder with Runnerbox. Turns out, Laura ditched her corporate desk job back East to pick up the bike and take a long ride out West. When asked "why Boulder?" for Runnerbox, Laura said it was the natural choice:
"Boulder was the obvious place for us to come. 
It's really the perfect place for a start-up like us because there's so much help. We've found so much support from other local businesses that are doing similar things, and we even plan to create a Boulderbox with only Boulder-made items to show just how many great things are being made here for athletes."
The concept of the business is awesome on multiple-folds: best friends and fellow endurance athletes become business partners, allowing them to train and travel to competitions, while at the same time putting in research to provide boxes to subscribers with only the stuff that'll help push their training to another level. Their mission and business model reminds me much of both ROLL Recovery andSkratch Labs, both of who also aim to help fellow endurance athletes by putting practical experience and knowledge to use. Because who knows better what an endurance athlete needs than other endurance athletes who've been competing, training, and fueling for years?

Each of the few cyclists leading the pack work for Runnersbox,so their teamwork mantra exists in and outside of the office. The race course is, actually, a big part of their "office", where valuable experimenting and research occurs to determine what items other athletes need to be at their best.
So far, Staci and Laura's decision to leave their "real" jobs to start Runnerbox in Boulder has been a race of success, fun, and support from their invaluable team of endurance athletes.

Big or small; every expo bring as much excitement to the proud business owners as does opening a Runnerbox brings to athletes. Here, they are pumped to be at mini expo at Flatiron Running in Boulder.
"We're all endurance athletes, so whenever we aren't in the office, we are out there researching while training to see exactly what works best, and what the athletes need. The idea is, we'll do the hard stuff figuring out exactly what you need to keep moving, and you worry about training."- Laura Jorgensen
Supporting Michigan Business
"They say necessity is the mother of innovation."
Those Who Can't Find It, Make It
by Lisa Diggs
They say necessity is the mother of invention.  In the entrepreneurial world that often manifests itself in the would-be customer creating a business.  Such is the case with Staci Dietzel, nurse, mom, and founder of RunnerBox in Dewitt, Michigan.
An avid runner, Dietzel likes to try out new products to support her athletic endeavors. Like many people, she sometimes found items she adored, and some were not so favorable.  Unfortunately, love them or hate them, you are often forced to buy full-size bottles or large quantities, when all you want to do is try something out.  That led her to look for alternatives like subscription boxes, which often contain smaller quantities of a variety of products.
"The idea of subscription boxes had been out on the market for a little bit. I was searching to buy one for myself because there are so many for beauty products, and I couldn't find any for runners so I decided to create one," said Dietzel.
"The process has been bigger than I thought it would be.  It's been a challenge, but interesting," she continued.
Dietzel started planning the company in the summer of 2012 and began shipping boxes in December of that year.  It has been growing quickly, largely through social media.  The company is active on Twitter and Facebook and invites bloggers to become their ambassadors.
For example, a blogger named Josephine of www.plantbasedrunner.com posted "Last week I received something very cool in the mail, a RUNNERBOX. A what you wonder? A Runner tested, runner approved box filled with a sampling of running related nutrition supplements and products."  She goes on to describe the service and echo Dietzel's sentiments about the value of sample sizes.
According to Dietzel, "A lot of runners had the same feeling as I did that there are a lot of products you want to try, but then if you don't like it, you're stuck with it."
That, and the variety, and perhaps the joy of a present filled with surprises arriving on a your doorstep on a regular basis, could be what is leading to the company's success.
Clients of RunnerBox may choose products that are geared exclusively toward running, or those selected with triathletes in mind.  You can order a one-time gift box, gift cards, or a bimonthly subscription.  Subscription boxes arrive every other month, and include a wide range of products like energy bars, gels, chews, protein shakes, and other accessories. The shipments are different each month, and the boxes include an inspirational quote on the inside cover.
The company is also always looking for new products, and Dietzel is especially interested in finding products to feature that are Michigan-made.  If you have a product to recommend contact RunnerBox.
Runner's World